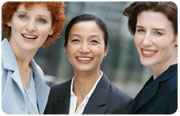 The Creative Network, Inc. is an Executive Recruiting Search Firm niched in the consumer products industries with particular emphasis in art/craft, stationery, social expressions, gift/tabletop, house-wares, office supply/products and related industries. We recruit and place individuals both domestically and internationally.

Our single mission is to place superior candidates with our clients. In fact, our goal is to exceed their expectations. Our specialty is finding professionals with expertise in all facets of Marketing, Sales, Creative talent, Web/Internet Developers, Graphic Designers, Art Directing, Design, Licensing, Product Development, Sourcing, Merchandising/Buying, and much more.

What really sets us apart is the system we use with our clients and candidates that is based on performance profiling. Traditionally, job descriptions contain minimum "have" requirements. Many job descriptions mention the minimum requirements and the "must haves". We focus on what the candidate must DO not just have. We spend a maximum amount of time, pre-qualifying and interviewing the top candidates. Market research has shown that most Hiring Managers have a 50-60% success rate in the long-term stay of a new hire. Due to our extensive pre-qualification process, we can increase a company's success rate in new hires to almost 85%.

The Creative Network has established long-term partnerships with companies that we work with; this partnership extends well beyond the area of recruiting. The relationships that we have nurtured enable and allow us to provide cooperative business partnerships whereby companies partner with other companies for a variety of business development projects. In addition, we work cooperatively with our client companies providing information on new business acquisition opportunities as well insight on new and emerging trends. We foster and grow partnerships with both companies and individuals based upon a clear, honest and timely communication style.