Candidate Services and Information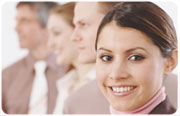 Our services are employer (company) paid; you have no financial obligation.
We have a close working relationship with our client companies and strive to present your qualifications in front of the right people. Our client companies also often review candidates from us, even though there may not be an immediate opening dependent upon your knowledge and experience.
Many companies are seeking top people with specific skill sets and do not want to take the chance of hiring by "hearsay" or "off the street". Consequently, we have listings for key positions that are not necessarily known in the marketplace. We provide our candidates with a thorough working knowledge of each company; its culture, policies, benefits, principles and immediate supervisors.
Most importantly we take the time to find out about your ambitions, attitudes and agendas. Our goal is to place you with a company with whom you have a compatible working style offering a mutually successful and happy working relationship. Our placements are personalized, comprehensive and discreet.
We have the negotiating skills to help with options and alternatives.